The Red Thread
Available for sale on Gumroad as a PDF and on BigCartel as a physical artist book (limited supply). $5 Patreon subscribers receive free PDF access.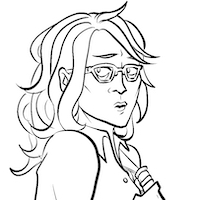 Louisville Magazine
Clicking the images redirects to their specific page on Louisville Magazine's website.
To Tara and Back

My 12-page submission to the 2016 Scholastic Graphix competition
Life & Death

My first webcomic attempt from 2013/2014.